About the Common Sense Traveler
My passion for travel all started when...
Picture the Brady Bunch:
That was my family and me (growing up) with the full-size station wagon and towed RV. As one of five children, camping was the most affordable method of travel for a large family. My dad was able to take 5 weeks of vacation at once (sadly unheard of now), enabling the whole family to annually spend many days and weeks traveling the U.S., and the American West. With the exception of having 0 sisters and 4 brothers, these vacations became the highlights of a great childhood. (Thank you Mom & Dad!)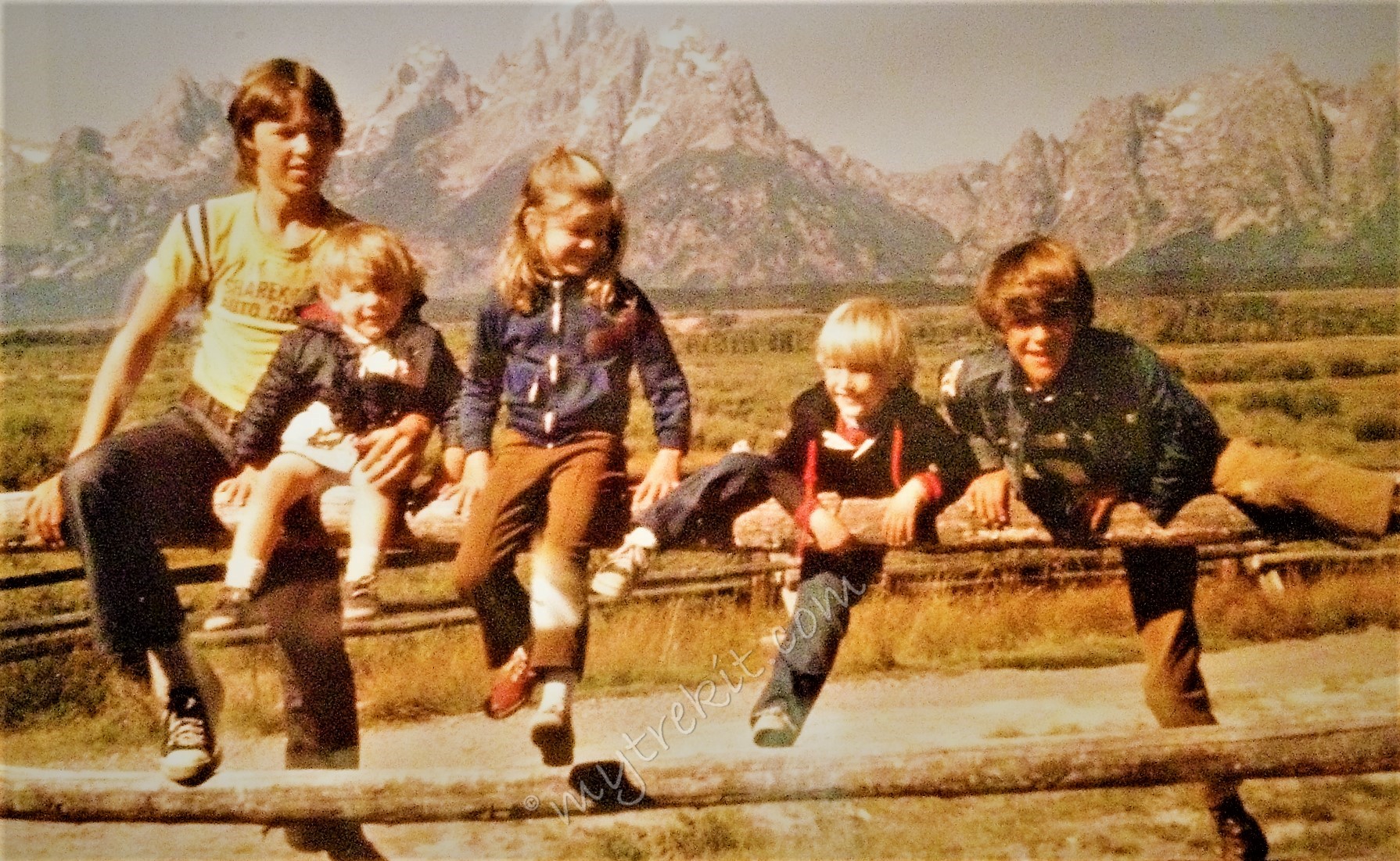 Our family's own iconic photo,
Grand Tetons, Wyoming
Fast forward to middle school: I attended my first wedding---along with several million other 'guests' all over the world. My mom invited me to wake up early, the morning of July 29, 1981, to witness The Royal Wedding of Prince Charles and Lady Diana Spencer on TV. This was my introduction to a lifelong interest in history, culture, and travel, with an emphasis on my love of Great Britain and English royalty.
And what a day it was...
~~Fourteen years later, I was fortunate enough to land on British soil for the first time, soaking up the iconic landmarks I had only ever seen before in books.~~

It was magical.
Riding in the Cotswolds of England. 'Drummer' preferred the feedbag that day.
I have 4 beautiful children. This is where common sense had to become a priority in my world. It was not financially easy raising four kids, but I learned how to conserve my resources early on. This has helped me to live within a more simplified budget, and prompted the search for common sense ways to travel.
Trekking it. I would never have been able to afford the cost of any all-inclusive European tours, and that is how and why I have been planning my own trips as an adult. You really can afford to go to places you didn't think were possible. If you want to take that trip to Europe, but thought it was impossible or out of reach, I'm here to help you push through the barriers and trek to many destinations without breaking the bank. Our travels are typically 50% less than the price of a typical, minimally-priced, all-inclusive European tour. Basically, that's 2 for the price of 1. It takes some planning, but if you want to go, it can be done, and it's a lot of fun.
Education and Experience. I am a history-lover, and also appreciate culture, the arts, architecture, nature, languages, and experiencing the different sights and sounds from all over the globe.
In fact, I have married two of my credentials: my Social Studies teacher certification with a CITM, or Certified International Tour Managing accreditation. I love to manage tours and teach. I also teach English online to international students, and completed a teaching internship on an island in the Mediterranean. It was very cool (and pretty hot!).
Gazing at the fabulous view from the trail up to the ruins of St. Hilarion's Castle, Kyrenia, Cyprus.
This blog is here for you to overcome the obstacles to your travels, as well as highlight some terrific destinations, packing tips & clothing ideas. I also hope you will simply curl up, settle in, and relax while reading these posts.
In addition, please share! Your tried-and-true methods and experiences are welcome here, so we can all benefit.
Thanks for sharing the ride.
Cheers,
The Common Sense Traveler